Wedding Card Printing Chennai
for Modern Card,
ULTRA HD PRINTS
Custom Wedding Printing Design & Printing
Wedding Card Printing Chennai: Ultra HD Prints provide best quality wedding and invitation cards design and printing service in chennai. Digital Wedding card printing, Offset Wedding Card Printing and Screen Wedding Card printing are available. Tinny friends wedding cards and readymade type custom designed cards also available. For best quality and unique invitation card design and printing service, Kindly call us : 9092833701
Wedding Card Printing Chennai: The interest in personalizing every detail of your wedding also reaches the invitations. As will be the cover letter of what your guests can expect, the paper and the type of printing are aspects that should be taken care of.
The wedding invitation design and printing are an important item because they provide the basic data of the link: date, place, time and dress code for costumes and party dresses for your guests. But they are also information in advance of the type of celebration they plan. Surely more than one, by opening yours, you can guess if you will wear a dramatic princess cut wedding dress or a simpler model, in case the celebration is more casual.
And since the information is not always textual, the type of paper and the printing of your invitations can be a vehicle for everything you want to communicate . Start express mastery in wedding card design!
Wedding invitation designs are one of the ways to announce the four winds that have decided to unite their lives in marriage. These reflect your love story and personality. Therefore, it is something that should not be taken lightly in planning your link. They will have to choose the style, what they should and not say, to whom and when they will be sent, in short, it is a process that requires some detail. However, something that nobody mentions is how to select the type of printing of your wedding invitation card.
We mention some of the ways of printing that this company offers to couples who are close to getting married.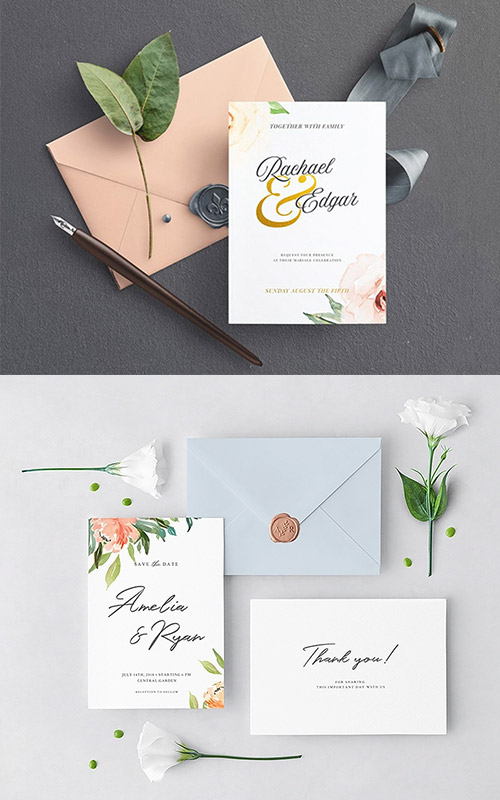 Engraving in ink
It is the finest and artistic of all. It consists of stamping the ink retained in the cavity of a plate on the paper. The result is a slight relief on the surface. By having it in your hands you will feel unique textures, with detailed letters and high quality drawings. With this technique, your invitations will convey a message of distinction and elegance.
Engraving in enhancement
The simplicity with which the paper is molded is almost magical. By means of a bronze plate, a three-dimensional effect is achieved, that is, the image emerges from the surface without the help of other materials.
Hot-Stamping
If you are looking for a metallic finish on your invitations, this is your ideal technique. It consists of a heat transfer printing of a film (called foil) on paper. As a result, a slight depth and shine to all your bridal stationery. So that an invitation is not overloaded, the ideal is that it is only placed in the name of the couple.
Offset
With it you can reproduce documents and images at high volume and very quickly. It is known as an indirect print, because the image is transferred from the metal plate with ink to a rubber, and from there to the paper.
Design & printing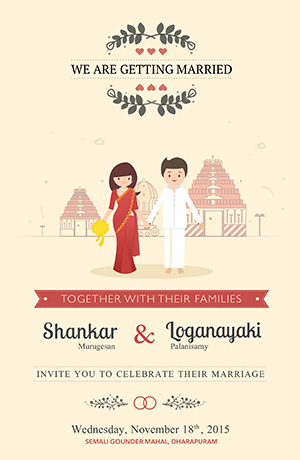 Screen Printing
Ink is passed through a fabric with the desired design, leaving a slight relief on the paper. Also, screen printing is used with different materials, such as parchment or pvc. The latter can be applied at your wedding to give a detail to the guests, such as feathers printed with the date.
Types of paper for wedding Cards
If you have already discarded some original wedding invitations in wood, the acrylic is not to your liking and you don't want the classic card either, all is not lost.
It could be said that there are as many roles as types of couples. Consequently, the number of options that can inspire your invitations will tend to infinity.
To simplify a bit, focus on a factor as important as the materials with which the paper is made . Here are the most common types of paper in bridal stationery.
Wedding Card Printing Materials: Art Paper, Matt Paper, Imported Paper and Texture Papers
Cardboard
Always prefer Classic excellence. Cardboard is already widely used, this material allows printing in various techniques with impeccable quality, which will make the texts for wedding invitations perfectly readable. With an adapted design, it can be customized to any type of wedding and its cost is very accessible.
Cotton fibre Paper
The classic and traditional paper cotton fibre is use for invitations. Its 100% cotton composition gives it softness; It adapts to various printing techniques, including watercolor, if the paper is of sufficient weight.
Albanene
Also known as butter paper, albanene paper is soft, translucent, flexible and very durable. It will stand out a lot with an elegant, but traditional style, if they use it accompanied by a background paper with decorative figures.
Stickers Printing Company
In Ultra Hd prints we do best wedding card printing chennai at low cost to the customers. We also design wedding card based on the customer customization and requirements. Ultra HD prints also do other printing services like certificate printing, Poster printing, sticker printing, Brochure designing service etc. For best quality wedding card printing chennai contact us at 9092833701
LETTERHEAD PRINTING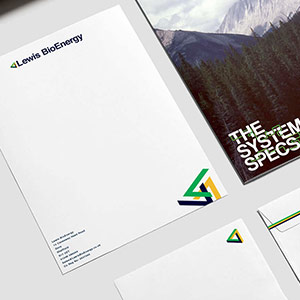 Premium Design Service available to create professional corporate identity design, flyer & book design, brochure design & much more.
BUSINESS CARD PRINTING
Premium Design Service available to create professional corporate identity design, flyer & book design, brochure design & much more.
FLYER PRINTING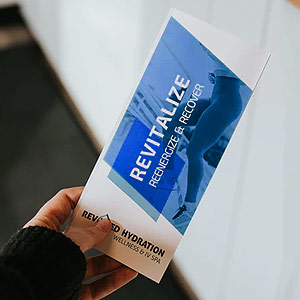 Premium Design Service available to create professional corporate identity design, flyer & book design, brochure design & much more.